FLOTATION WITHOUT
DISSOLVED AIR®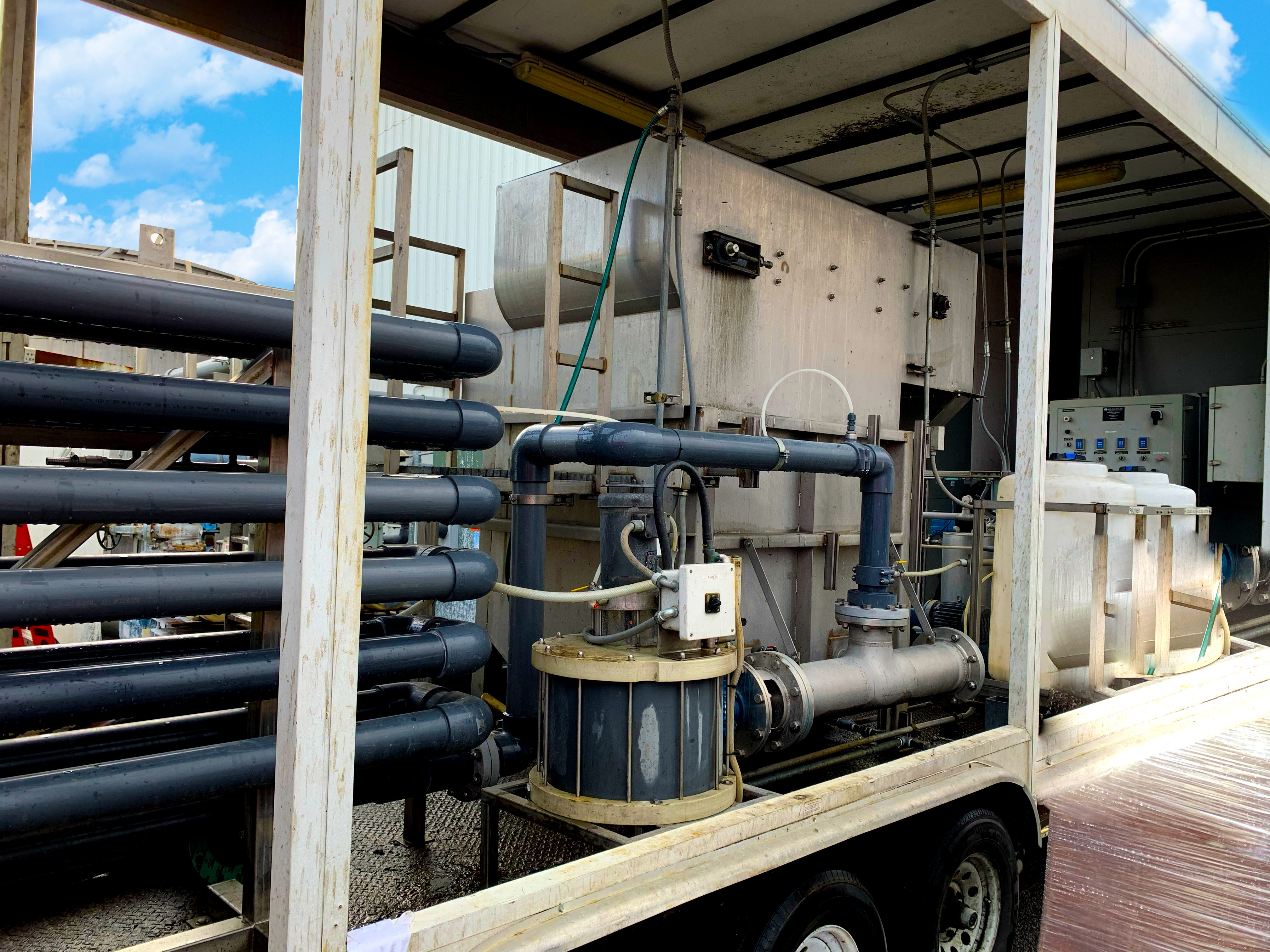 SAF® System Pilot Testing For
Water and Wastewater Applications
Heron Innovators, Inc. specializes in flotation treatment technology. Pilot testing is available for industries and municipalities. Suspended Air® Flotation (SAF®) wastewater treatment systems perform water clarification with grit removal and solids thickening. This advanced system does not use dissolved air and is more efficient than traditional flotation and clarification methods. Our Pilot Trailers are mounted SAF® F50/CF125 treatment systems, fabricated from AISI type 304 stainless steel, PVC, and polyurethane. The pilot trailers measure 40 feet long by 8 feet wide by approximately 12 feet high. The systems have a 350 gpm flow capacity and include pH control systems with a PID loop. This complete and continuous operating facility-in-a-truck features a 7.5 HP feed pump and 4-inch magnetic flow meter. Heron Innovators' product standards include designing according to customer specifications. Further project details are listed below. Contact Heron Innovators to learn more.
350 gpm self-priming Feed Pump with a VFD controller
4-inch magnetic Flow Meter
pH control system with PID loops for acid and caustic feed
Flow controlled outlets for coagulant feed and coagulation
Serpentine-Style Floc Mixer
Polymer dosing/flash mixing and aging system
Working Tanks for conditioning chemistry
Flotation Cell and SAF® Froth Generator
Positive Displacement Skimmed Solids Pump
Treatability Studies
In-house laboratory testing
Jar tests for determining polymer and flocculent dosing rates and additions for pH control
Analytical results developed to predict process performance and operating costs
Pilot Testing
Pilot scale testing offered to verify process performance and operating costs derived from laboratory tests
Trailer-mounted SAF® system equipped to handle flow rates ranging from 40 to 350 gpm with complete pH control, polymer dosing & aging, and a flotation tank offered for lease
Contained and fully integrated are:
pH Control System with PID loops for acid and caustic feed
controlled outlets for coagulant feed/coagulation
polymer dosing/flash mixing/aging system supporting flocculation
flotation separation of suspended solids and associated BOD/COD
fully automated continuous operation including the starting/stopping system by remote signal/parameter.
Capabilities demonstrated:
Primary influent clarification in place of primary clarifier
Treatment of overflow pond return water containing algae/partially  digested raw influent
Clarification of activated sludge mixed liquor with concurrent  thickening of MLSS.
Digested sludge belt filter press filtrate and wash water clarification
System Capabilities and Services Provided
Engineering design of process and components
AutoCAD drawings for mechanical and electrical fabrication
Provision and operation of pilot trailer
Custom fabricated welded stainless steel tanks and components
PILOT TESTING GALLERY
(Click image to enlarge)
40 ft. L x 8 ft. W x 12 ft. 4 in. H
304 stainless steel, PVC, Polyurethane
7.5 HP, 250 gpm pump with 4-in. magnetic flow meter,
pH control system with acid and caustic PID Loops
Serpentine-Style Floc Mixer, 4″ diameter, Plug flow, 100′ long, schedule 80 PVC.
Model CF-125 ClearFloater™ Cross-Flow Flotation Cell with ClearMixer®, chain and flight skimmer, solids hopper, adjustable stainless steel weir, and observation decking.
Model F50 (13.6 gpm froth flow rating).
Polymer dilution and aging system; acid, caustic, polymer, and frothing agent metering pumps; float solids transfer pump; control panels
SAF® demonstrates over 30 times the capacity of a conventional primary clarifier.  Algae removed from pond less than 0.5 NTU.  MLSS thickens using less polymer and with greater solids capture.
Industrial & Municipal Water and Wastewater
Previous Pilot Locations
(Partial List)
Municipal
Clearlake, CA
El Dorado Irrigation District, CA
Fortuna, CA
Manteca, CA
Tulare, CA
Industrial
Artois, CA
Baltimore, MD
Cacye, SC
Chico, CA
Daphne, AL
Dodge City, KS
Fairfield, CA
Fresno, CA
Gridley, CA
Johnson Creek, WI
Lemoore, CA
Lexington, NE
Marshall, CA
Modesto, CA
Moultrie, GA
Spanish Fork, UT
Stockton, CA
Tulare, CA
White City, OR
Customer Specifications, 2D CAD Drawing