Municipal Landfill Leachate
SAF® System For Treatment Of Landfill Leachate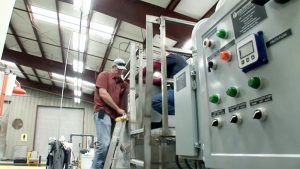 A customer in the municipal solid waste industry needed a solid/liquid separation process as a component of a system solution for disposal of leachate water. At Heron Innovators, we specialize in Suspended Air® Flotation systems for wastewater applications, and were contracted to manufacture and install a skid-mounted system to remove flocculated solids prior to disposal in a drainfield.
The process incorporated lime softening to remove calcium, a major contributor to TDS, from the leachate wastestream, reducing TDS discharges by greater than 50%.
The turnkey assembly has a Model F25 froth generator and a Model CF125 ClearFloater™ flotation tank made from 304 stainless steel, structural supports made from A36 carbon steel, and piping fabricated from stainless steel and Schedule 80 PVC. We custom engineered and fabricated the system to meet the customer's requirements for coordination with the piping and PLC process controls. The skid measures 16 ft. long x 8ft. wide x 9 ft. high. For product quality verification, we also performed functional and leak testing before and after skid placement at the customer's site. For additional details about the project, contact us directly.